Brooklyn on the Edge (waterfront)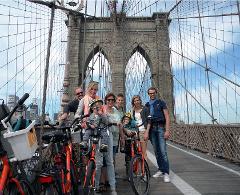 Süre: 4 Saat (Tahmini)
Lokasyon: NYC, NY
Ürün kodu: BKLN4ENG
Explore Brooklyn by bike with an English speaking tour guide that is a Brooklyn insider. You'll be surprised how vibrant and diverse Brooklyn is! Brooklyn is by far the hottest neighborhood in New York City and we'll make sure you get to see the best parts and hidden gems.
Brooklyn on the Edge Bike Tour – 4 hours
Our 4 hour bike tour will take you to Williamsburg, 'the hippest place on earth', but also home to the largest Jewish orthodox community outside of Israel. You'll bike in the streets of beautiful Brooklyn Heights to get a glimpse how the really fortunate live and further to DUMBO to experience the neighborhood that is built under the Manhattan Bridge Overpass. We're not stopping there, we'll show you Red Hook, one of Brooklyn's still existing harbors and let you catch your breath in Brooklyn Bridge park, admiring the view on Manhattan. Do you know where to get the best view on Manhattan? We do, and we'll take you there.
Tour Highlights
Red Hook
Cobble Hill,
Brooklyn Heights
Brooklyn Bridge Park
DUMBO – Down Under Manhattan Bridge Overpass
Williamsburg
What's Included
Bike
Helmet
An awesome local tour guide
East River ferry
Lunch
We'll stop for a quick lunch
Bring your own or enjoy a local eatery
Lunch is not included in tour price
Starting Point
561 Clinton Street , Brooklyn, NY
Please arrive 15 minutes before tour start time
Tour will return to starting point
We are always open to change your bike tour on request to suit your special interests when all other participants agree.

Biking with Kids
Biking is great with kids! We love having kids on our tours. Here are some rules and guidelines:
Ages 12+ can bike independently, depending on their experience. The tour guide decides whether it is safe for kids to bike by themselves. Helmets are mandatory for kids until they are 14 years old.
Prices excluding 8.875% city tax.